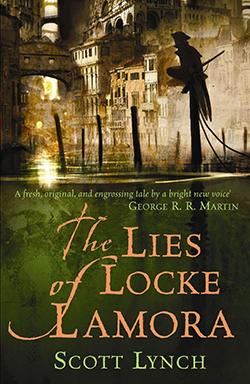 Title: The Lies of Locke Lamora
Author: Scott Lynch
Genre: Fantasy, Heist
Series: The Gentlemen Bastard Sequence
Setting: Camorr, 78th year of Aza Guilla
Rating: 4 out of 5 stars
Summary:
In this stunning debut, author Scott Lynch delivers the wonderfully thrilling tale of an audacious criminal and his band of confidence tricksters. Set in a fantastic city pulsing with the lives of decadent nobles and daring thieves, here is a story of adventure, loyalty, and survival that is one part "Robin Hood", one part Ocean's Eleven, and entirely enthralling.

An orphan's life is harsh — and often short — in the island city of Camorr, built on the ruins of a mysterious alien race. But born with a quick wit and a gift for thieving, Locke Lamora has dodged both death and slavery, only to fall into the hands of an eyeless priest known as Chains — a man who is neither blind nor a priest.

A con artist of extraordinary talent, Chains passes his skills on to his carefully selected "family" of orphans — a group known as the Gentlemen Bastards. Under his tutelage, Locke grows to lead the Bastards, delightedly pulling off one outrageous confidence game after another. But there is someone in the shadows more powerful — and more ambitious — than Locke has yet imagined.
What do you do when asked to choose between saving the world and making your heart's desire come true? Lie through your teeth, swindle your enemies into believing it and do exactly as you please, of course. Being a fan of TV shows like White Collar and movies such as the Matchstick Men, I knew I'd like this book right from the start. However, I couldn't finish it all in one go. It took me close to six months to finally finish it and I'm so glad that I did. Combining fantasy with crime is a stroke of genius. There's hardly a dull moment in this book. Told from the perspective of Locke Lamora, a con artist, it's different from most fantasy books I've read. Locke is no hero – he's an infamous thief in the middle of a long con when the story starts. You can't help but get sucked into it. The various plots that seem random at first all begin to make sense as the story progresses, so much so that it gets very hard to part with the book around the 50% mark.
Coming to the main characters, despite them possessing questionable morals, you can't help but root for them. They're clever, audacious, resourceful and their adventures are thrilling to say the least. I loved the entire crew, but especially the Sanzas. They reminded me a lot of the famous twins from another series – Fred and George Weasley. The rest of the ensemble from Capa Barsavi to the Gray King make their presence felt, adding more depth to the story.
The writing and world-building is impressive as well. The swearing initially bothered me, but I got used to it as it was necessary for the story. The Italian influence is apparent, especially so to those who have been to Venice. The author hints at a rich history through multiple references to the Eldren race, who have left their imprint clearly through the architectural marvels that have stood the test of time. Every little detail that might confuse the reader is explained away either in the interludes or during the course of the story, which makes it easy to picture this fictional world. I liked the subtle differences from the real world such as Falselight and Elderglass. Religion is a predominant theme in the book. I presume it seems to be based on the Greek or Roman mythologies. According to me, no world is complete without a fictional religion; it also makes the characters more believable.
The only small issue that I had with it was the climax and that's the reason I can't give it a perfect rating. Although I got the ending that my heart desired, my brain refused to accept the events as they turned out. However, that was too insignificant to ruin the book for me.
To sum up, I regret not having finished the book earlier because it is a fantastic read. I hope to get through the other books in the series by the end of this year. I'd heartily recommend this to everyone who likes stories about a group of bad boys and enjoys watching them trick the world to get exactly what they want.
About the Author:
I was born in St. Paul, Minnesota on April 2, 1978, the first of three brothers. I've lived in the Minneapolis/St. Paul area my entire life; currently, just across the border in Wisconsin, about half an hour east of the Twin Cities.
The Lies of Locke Lamora, my first novel, was bought by Simon Spanton at Orion Books in August, 2004. Prior to that I had just about every job you usually see in this sort of author bio– dishwasher, busboy, waiter, web designer, office manager, prep cook, and freelance writer. I trained in basic firefighting at Anoka Technical College in 2005, and became a volunteer firefighter in June of that year.
In 2007 The Lies of Locke Lamora was a World Fantasy Award finalist. In 2008 I received the Sydney J. Bounds Best Newcomer Award from the British Fantasy Society. In 2010, I lost a marriage but gained a cat, a charming ball of ego and fuzz known as Muse (Musicus Maximus Butthead Rex I).
My partner, the lovely and critically acclaimed SF/F writer Elizabeth Bear, lives in Massachusetts.
Find him on his website, Goodreads or Twitter.
---
Have you read the book? What did you make of it? Is it on your TBR list already or are you likely to add it? Have you read other books by the author? Let me know in the comments section.
If you liked the review or think that we might enjoy the same books, connect with me on Goodreads or view all my reviews.
[Side announcement: My blog reached over a 100 followers this weekend and I'm over the moon! 😀 A huge thanks to everyone who finds my writing worth your time.]