As I sit down to write my 100th blog post, I can't help but look back with a smile at my blogging journey. It's been less than a year since I started posting regularly, but lately I've felt less compelled to give into my laziness and miss a post, mostly because writing for this blog brings me immense joy. Perhaps it isn't a widely successful internet phenomenon, but that has never been my aim. I'm lucky that I've found so many loyal readers who like the sort of things I write about. On this important milestone, I'd like to thank everyone who has ever read a post written by me and felt it was worth your time.
The previous Monday post reminded me that trying to limit my favourites to three is a very difficult task for someone like me, so I decided to do something interesting and list my favourites according to the date. This time around, I chose movies, mostly because I've been re-watching the series that defined my childhood. I realise that a lot of people might not like the kind of cinema that I do, and if you are one of them, I hope you will not judge me by what I love. Also, I'll be discussing only English movies in my post because a lot of my regular readers will be able to easily identify them. That does not mean that I don't watch/hate on regional movies. In fact, recently, I've watched quite a lot of good Kannada movies and really liked them (Godhi BaNNa… was amazing, in my humble opinion). Also, I do enjoy the occasional Bollywood movie, provided they're not the usual, predictable masala kind.
Before I get to the main part of the post, I must confess that I'm guilty of watching many of them on TV. I hardly watch a movie per month in a cinema hall. I prefer watching movies based on books because they're familiar and I'm well-informed in such cases. I get very emotional and carried away while watching. Although it's slightly embarrassing when your family makes fun of you for crying about something fictional, I like the fact that I'm a very empathetic person. If there's one genre I avoid, it's horror – I don't believe in ghosts and such, and most of the plots are sadly predictable. I'm getting sick of romantic comedies too. I was also never the kind of girl who could sit through a chick flick, so you won't be seeing any of those on my list. At this point, you're probably wondering what is on the list, so let me cut to that without further ado.
1. Interstellar
I love this one so much that I subjected my friends to it on New Year's Eve (sadly, only one of them liked it). I was fortunate enough to catch it in the theatres as there is something magical about watching movies with amazing visuals on the big screen. I have always loved looking up at the night sky, I know my basic astronomy and at one point of time all I wanted to do was become an astronomer (I'm too thin to be an astronaut, so I didn't waste my time on that dream) when I grew up. Murphy was an easy character to like – even I was a clever, so-into-science kind of a girl. I really admire the fact that it was a woman's intelligence that saved the human race (we really do need more women in STEM fields). The different planets they went to were imaginative and terrifying at the same time; they made me appreciate our own Earth better. I think the plot was a perfect balance between science fiction and human emotions. The background score by Hans Zimmer added an extra dimension to the story. This is exactly the kind of film I'd watch over and over again till I know all the dialogues by-heart because it's a masterpiece.
2. Ocean's Eleven
I watched it first on TV in bits and pieces, mostly because my brother was a fan. There is something really exciting about heist movies that easily makes them one of my favourite genres to watch. I love diving into the world of con-men. Of course the reason for pulling off such an elaborate scheme is a bit cliché, but it has Brad Pitt, George Clooney, Julia Roberts and Matt Damon it it, so that more than makes up for, well, everything. The rush you get when you finally get to see how they did it is well worth the watch. The subsequent films were just not good enough compared to this, which is why I've only listed the first in the series here.
3. Marvel Cinematic Universe
I am one of those people who did not read a lot of comic books when I was a kid – at least the conventional ones. The movies introduced me to a new breed of superheroes and a well thought-out series. All superhero movies are, of course, predictable. I watch them because it is their flaws that make them interesting and relatable, especially if they are used strategically to drive the plot forward. My favourite is, not surprisingly, the genius Tony Stark and the antagonist I can't help but love is Loki (I'll admit it's 90% because Tom Hiddleston got the part). Also, Black Widow is awesome simply because Scarlett Johansson is awesome.
4. The Harry Potter series
If you're a regular reader, you probably already know I'm a huge fan of The Lord of the Rings series, so I chose the next most obvious fantasy movie series to be on the list. This is also the series I have been re-watching recently – four down, four more to go! My favourite among the eight is Harry Potter and the Prisoner of Azkaban. Another great video by Nerdwriter helped me understand why it appealed to me so much (if you're interested, check out this link). Hermione shall forever remain my character and I loved how Emma Watson portrayed her on screen. A group of my school friends had vowed to watch the movies together (since the sixth one, I believe). It was an integral part of my childhood and teenage years, which is why it will always have a soft spot in my heart, no matter how bad I thought the fifth movie was.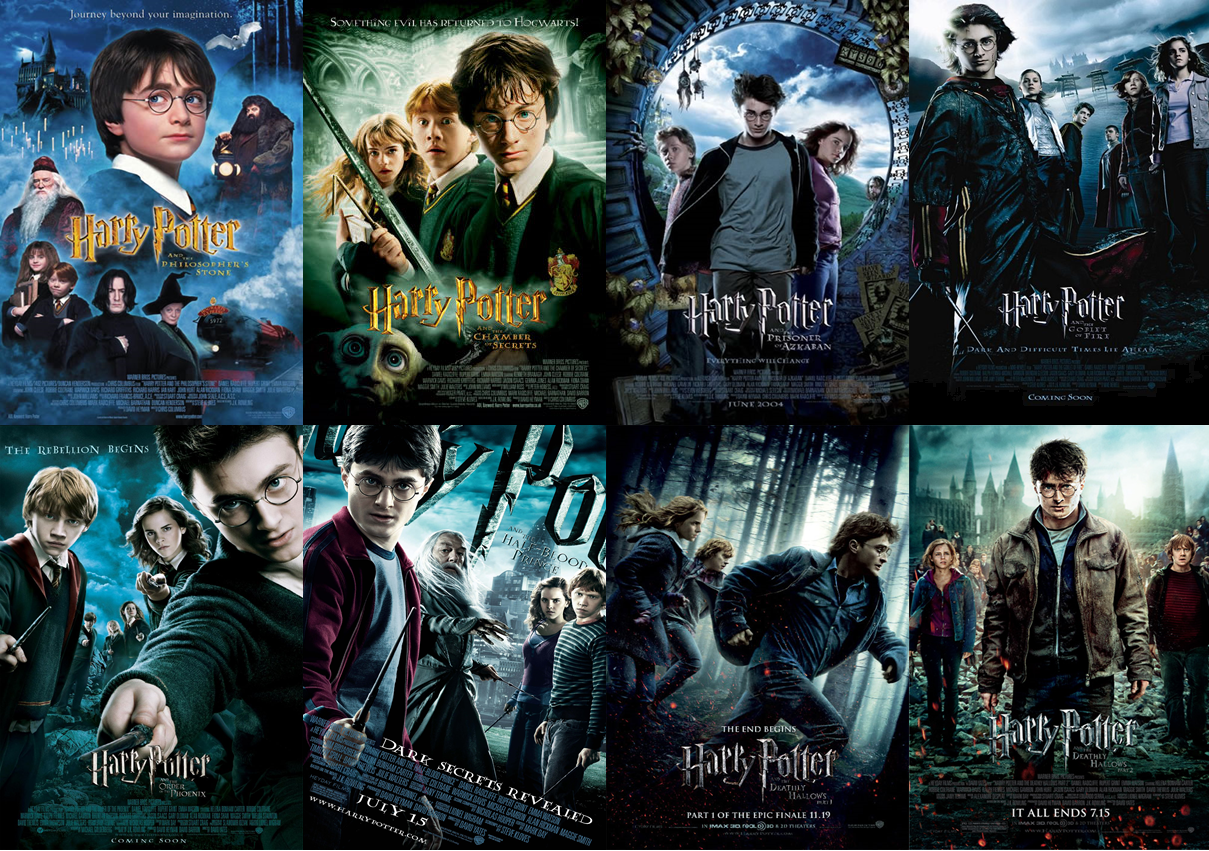 5. The Pirates of the Caribbean series
If you've watched this, you're probably thinking it's because of Johnny Depp's phenomenal acting as the insanely brilliant Captain Jack Sparrow, and you'd be mostly right. However, Keira Knightley also does a good job as Elizabeth Swann, who is a seriously under-appreciated strong female character, in my opinion. The one thing I really liked about this series is that all the characters have their own motivations and are largely selfish, which makes for an extremely good character-driven plot. The fourth movie in the series was hilarious but it didn't have the same appeal that the other three did. The movies also taught me a lot about pirates, sea myths and, of course, colonial Caribbean. You also might have noticed that the music was composed by Hans Zimmer for this series as well and that should probably lead you to conclude that I think he's one of the best composers in Hollywood right now.
All the movies that follow are animated. I'm a child at heart and enjoy them still because the imagination is so fresh in these kind of movies and humour component makes them fun to watch. Most of them are by Disney and Pixar, but it's a well-known fact that they produce the best animated movies.
6. Ratatouille
I'm pretty sure this was the movie that inspired me to poke around the kitchen. I re-watch it every opportunity I get. The central character, Remy, is a rat whose passion is cooking. It's a heart-warming tale about dreams and an unlikely friendship. My mom hates it because she can't stand the horror of having a rat in the kitchen, but the unusual imagination is what I liked best about the movie. It is unconventional, emotional and if, like me, you enjoy food (be it cooking or eating), it is a must-watch.
7. How to Train Your Dragon
Dragons in fantasy have become a terribly boring cliché, but this endearing movie that combines the Viking lifestyle and the feared winged creatures is like a breath of fresh air. The unexpected friendship that sprouts between Toothless and the kind-hearted Hiccup changes the way an entire populace looks at dragons. It has all the usual tropes – a disappointed father, an unlikely hero, a badass heroine – but at the same time it transports you to a different world, which is equally strange and familiar. I found that it was very thought-provoking in terms of the themes it explores and the emotional connect was an added bonus.
8. Finding Nemo
I was genuinely impressed by the story line of this movie. It has one of the best animated characters ever created – Dory! I'm yet to watch Finding Dory, which I hope turns out to be just as good. I would recommend this one to adults as well because it's one of those rare animated movies that parents can relate to. The starting is so sad that I almost cried on multiple occasions, but the fascinating sea creatures Marlin and Dory encounter on their journey and their various underwater adventures are a treat to watch. Also, if you always wanted to learn how to speak whale, this one is definitely for you.
9. Up
This one will help you gain a new perspective on the cranky old lady/man living next door, I promise. As I stay with my grandmother who is wilful, stubborn and loves living in the past, Carl's character became my new favourite. It's another fun and highly imaginative tale featuring a little boy, an old man, a house, balloons, dogs and colourful birds. I really like it because the boy and the old man, despite their huge age and generation gap, which initially puts them at odds, finally learn to work as a team and appreciate each other. It also features lost love as a subplot, which is very touching.
10. Inside Out
There was a lot of contenders for this spot, but this one made it to the coveted list because of its child-like narration and simplicity. It gave me a huge emotional rush and really made me think. It is based on an actual scientific theory on emotions, but the way it is brought to life on screen is superb. One of the main lessons to be learnt is that all emotions are equally important and the impossible pressure society puts on us to be happy is to be taken with a grain of salt.
---
I realise that I've left some really good animated movies out such as Mulan and Toy Story, but the truth is that I just haven't gotten around to watching them yet. (Sorry!) Now that you've got a glimpse into my favourites, I'm dying to know yours and I also welcome suggestions. Head over to the comments section and tell me all about them. 🙂